• writer • editor • creative consultant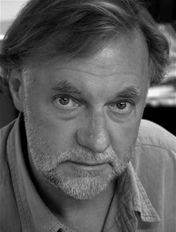 Ken Wilkie was born in the Scottish city of Dundee on the River Tay. An only child, he was educated at the High School of Dundee from the age of 5 to 19. His mother's family (Morris-Bruce) came from St Andrews where the family spent the summer holidays playing golf, albeit it without realising they were directly related to the golf icon Tom Morris, the many-times Open Champion and designer of the Old Course. Ken's father was in the jute and textile business, travelled extensively and spoke the three Scandinavian
languages and Russian. Ken taught himself to play the piano, looking over the shoulder of a gifted uncle "I also spent a lot of time under the piano with the dog watching grown-ups…".
Ken studied media in London at St Martin's College of Art. After completing this he studied at the London College of Journalism, paying the rent in Soho by doubling as a bar pianist at night. Holiday jobs included working as a Christmas postman, a shepherd one spring, a bank clerk and a lumberjack in Sweden. One summer holiday he cycled with a tent through France from Bretagne, via Mont Ventoux, to the Italian border at Menton.
Wilkie says that his passion to become a reporter was fired by the humorous and graphic short stories of Welsh poet Dylan Thomas. So he began working as a reporter himself with a local newspaper, then as a sub-editor/page designer and feature writer in Scotland and England for national newspapers like The Guardian and The Herald who sent him on his first travel assignment to
Kenya. Then to the Netherlands to look into how tolerant the country was.
His entry into the magazine world in the UK came with a ten-page feature in The Sunday Times Magazine when the editor Harry Evans assigned him to write about the discoveries he had made following Van Gogh's footsteps around Europe.
Wilkie's involvement with the image as well as the word made a career based in the magazine world a natural choice. Similarly, a love and affinity for travel led to his long-standing editorship of KLM's inflight magazine Holland Herald.
Ken Wilkie is a believer in quality journalism. He is a many-sided character, a lateral thinker and, in the Netherlands regarded as an expert on international publications. Ken is a lover of the blues and modern jazz. He has been interviewed on television in the UK and the Netherlands, mainly in relation to his books, and made guest appearances in the satirical TV programmes of Kees van Kooten and Wim de Bie.
Ken Wilkie is a positive thinker and finds humour one of the driving forces in his life and work. He finds one of the best ways to learn is through laughter. Wilkie is involved in the annual PINC congresses (People/Ideas/Nature/Creativity) in Zeist which take place every May.