• writer • editor • creative consultant
Holland Herald
Holland Herald, the monthly inflight magazine of KLM Royal Dutch Airlines, was founded in January 1966 and is the oldest inflight magazine in the world. Ken Wilkie was editor-in-chief from 1977 to 2004.
With colleague art director Roon van Santen, he steered the magazine through four formula changes. Referred to initially as the journalistic ambassador of The Netherlands, Holland Herald has featured most of the leading Dutch writers, artists, architects, photographers, film stars, business leaders, innovators and heros and heroines of sport. Few key historical or contemporary Dutch figures have not been profiled or contributed to its pages.
Holland Herald evolved into an innovative lifestyle and travel magazine featuring some of the world's top travel writers and photographers whose work in the magazine was exhibited in New York. At the 1995 WAEA Awards, Holland Herald won the Avion Award (the industry Oscar) for 'Best Inflight Magazine In The World'.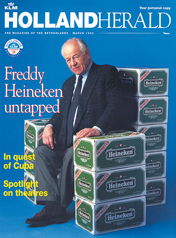 To mark the 50th anniversary of the oldest inflight magazine in the air, Wilkie told the HH story in the February 2016 souvenir issue and was interviewed in NRC Handelsblad.